PremiumEPC
---
| | |
| --- | --- |
| Contact Name | Graham Cairns |
| Location | 8 Clarendon Close, Wokingham |
| City | Winnersh |
| Post Code | RG41 5JW |
| Contact 1 | |
| Contact 2 | |
| E-mail | |
| Web | |
| Rating | 5/5 |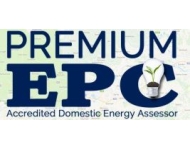 Please quote "EPCcompare" when contacting PremiumEPC
About

Us
---
I'm Graham Cairns, and I am fully trained, accredited and insured to produce your EPC. I can normally arrange to visit and survey your property within 24-48 hours of your initial contact, so that you can expect a fast and efficient service. I ensure that all communications are answered promptly, enabling you to market or rent your property without delay, and with the minimum amount of fuss.​
If you live in Berkshire or the surrounding area and are selling or renting a property, I can visit at your convenience to undertake the survey to produce the Energy Performance Certificate required by law. Please contact me to discuss your requirements. No VAT to add.
Services
---
Domestic epc's in berkshire and the surrounding area
Reviews
---
T HICKS
21 Feb 2019 | Rating: 5 /5
A highly professional, informative and personable service, which is strongly recommended. Thank you Graham.
---
Sandra Higgins
19 Jan 2019 | Rating: 5 /5
Highly recommend Mr Cairns for this service. He gave a good explanation of the process and what/where he needed to access. The work was carried out unobtrusively in a professional and courteous way.

Thank you so much.
---
Sandie Lindsay
17 Sep 2018 | Rating: 5 /5
Graham was brilliant. He was professional, very efficient , explaining all contents of an EPC certificate. It was completed and delivered to me within 24 hours. Highly recommend. A pleasure to have him in my home. Delighted with my choice.
---
Shirley Harvey
16 Feb 2018 | Rating: 5 /5
Graham arrived on time, fully explained the process and emailed the certificate the next day as promised. I would highly recommend Graham as he was very polite, professional, competitively priced and provided a fantastic service
---
Angela Moore
25 Sep 2017 | Rating: 5 /5
Graham provided an excellent service. He explained the process, was prompt, professional and the report was available the next day. Highly recommended.
---
Emma Phillips
22 Sep 2017 | Rating: 5 /5
Graham was a friendly, professional guy. The report was sent the next day. I would definitely recommend him to others
---
Alan Cooper
02 Aug 2017 | Rating: 5 /5
Graham was very helpful over the phone before the visit, he arrived promptly and provided an excellent explanation during the inspection of what he was looking for. Graham provided the finished document in less than 24 hours. He is polite, friendly and capable, and great value for money compared to others. Would definitely use again.
---
Odette Woods
01 Aug 2017 | Rating: 5 /5
Professional, friendly and prompt, great service and excellently priced!
---
SK Yeap
05 Jul 2017 | Rating: 5 /5
Graham arrived on time and took the trouble to explain the process before embarking on the EPC assessment. Graham is most personable and even offered some tips for managing tenants. He has my absolute recommendation.
---
Maurice Ungless
23 May 2017 | Rating: 5 /5
With the above rating what can be said further. Well Graham was punctual, very courteous, professional, very congenial, and a joy to have in our house. The cost was very competitive against others even though our house was 328 m2 and Graham does not charge VAT as he is not VAT registered, others bump up their charges for larger properties, Graham does not. Well done Graham and absolutely recommend your service, thank you.
---
Pilar Vinambres
29 Mar 2017 | Rating: 5 /5
Mr Cairns was very professional in the way he presented himself and carried out the survey in my home. He was very careful to cause as little inconvenience as possible. I received the report when he said I would. I highly recommend this surveyor.
---
michael rowland
29 Mar 2017 | Rating: 5 /5
I highly recommend Mr Cairns. He was punctual and very courteous. He was very thorough in his inspection and informative when I asked questions. I didn't have to wait long for the report. A truly professional service. Thank you.
---
Cathy Campling
05 Mar 2017 | Rating: 5 /5
Quick efficient friendly service. Graham is professional and we felt very comfortable with him in our home. Would highly recommend.
---
Neil Armstrong
03 Mar 2017 | Rating: 5 /5
Graham was punctual, friendly and advised me fully of the epic service he was providing. The epc was sent to me later the same day. Half the price of an estate agent arranging the same service. I would use Graham again and would not hesitate to recommend him.
---
Mark Ware
17 Feb 2017 | Rating: 5 /5
Mr Cairns was very punctual, extremely friendly and efficient.
---